Microsoft holding their "it's time to share" event on April 12 aimed at Pink phones
This article contains unofficial information.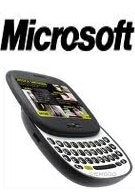 It's almost strange to see how the balance of attention gets bounced around between Microsoft and Apple of late. The year started off with a lot of surprise as Microsoft finally unveiled their long awaited Windows Phone 7 platform at the biggest mobile event of the year during MWC. Then most recently we've witnessed the successful launch of the iPad and Apple following it up with an upcoming event that'll preview OS 4.0 for the iPhone. Now Microsoft comes back with a punch of their own as they've sent out invitations for their "It's time to share" event that's scheduled for April 12th. It looks as though it'll be geared around Project Pink phones as we've already begun to hear a lot of information surrounding these text messaging devices aimed for the teenage crowd. Even though we've seen plenty of leaks surround the hardware of these alleged Pink phones, we're guessing that the platform running on these handsets will finally be unveiled – it's being confirmed that these Pink devices are indeed heading to Verizon Wireless as previously rumored.
source:
Gizmodo