Microsoft announces Windows 8.1 with support for high-res displays
23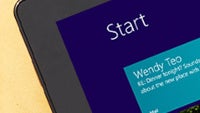 Microsoft has just officially unveiled
Windows 8.1
and it is bringing a ton of new features, and finally enabling support for high-res displays. Windows 8.1 Preview is available right now for developers and the finalized versions will be available to all users this fall.
Good news is that with
support for high-res screens
, Microsoft will finally be able to deliver devices like the Surface Pro with sharper displays, in line with what companies like Apple and Google are releasing.
The new features in Windows 8.1 include the return of the Windows button, a brand new search interface with some changes to the user interface, new applications like Flipboard and Facebook, and more customization capabilities.
It all starts from the start screen.
Live Tiles come in additional sizes
, backgrounds are animated, and you can set any image for a lock screen wallpaper. The Start button is back for the desktop mode and it simply brings you back to the Modern Live Tile UI. You can also right click it to log out or reboot.
The
new alignment features
in Windows 8 are also worth a deeper look. Now you can snap apps side to side, change the window size, and snap not only two but more applications. Neat!
The new
'Bing Heroes'
search feature comes with impressive graphics. Looking up celebrities like Marilyn Monroe would bring a full screen interface with images, bios, and media, along with traditional search results.
Microsoft has also chosen to
scale up the OS to 200%
, just like Apple did. This means that developers will have to step in and update applications in order for text and images to look crisp.
We'll be learning more about Windows 8.1 as the Build conference progresses, but overall it seems that Microsoft finally listened to its critics and is fixing many of the initial flaws of Windows 8. Right below are screen grabs of the new Windows 8.1.
source:
Microsoft