Microsoft already in the works with My Phone 2.0 service?
This article contains unofficial information.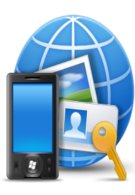 Microsoft has made a big push in the last year by finally jumping onto the scene with Windows MarketPlace for Mobile and their My Phone backup service – the latter of course allowed users to backup data to a password protected web site. Now it looks like the Redmond based company is in the process of improving its service with an expected update down the road. According to the team over at mobiletechworld, there is a job ad posted by the company suggesting that a new version of the My Phone service is in the works. It states, "The My Phone server development team is looking for a software developer to join us as we embark on our 2.0 release. Our service includes a data sync engine that mirrors your phone's data for backup and restore, as well as other cool scenarios like finding your lost phone, remotely locking or wiping the data and many others on the top of our list. If you are interested in mobile and online services, our team is at the heart of making it happen at Microsoft." Regrettably there is little information that sheds light on specifics of what to expect with the update. One thing that users are expected to enjoy is better support for social networking and enhanced location awareness – which are some of the things that have really exploded onto the scene of late.
source:
mobiletechworld
via
softpedia