Microsoft Surface RT heading to Costco
4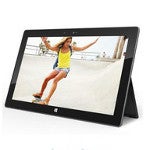 Costco Wholesale is joining the Microsoft Store, Staples and Best Buy in offering the
Microsoft Surface RT
. This is the version of the tablet that is powered by an ARM-supported processor and has functions similar to the Apple iPad and any number of Android tablets like the
Google Nexus 10
. A leaked photo shows the tablet included in the retailer's inventory page, priced at
$499.99 for the 32GB tablet only
, which is the price you will find all over for just the tablet. But it is when you start throwing in other options with the touch cover and type cover, where Costco's magic becomes apparent.
Touch Cover
is the flat surface touch QWERTY that docks to the tablet and doubles as a protective cover. If you wanted a different color, the price would rise to $618.99 ($499.99 for the tablet plus $119 for the non-black Touch Cover.
Here's where Costco earns its reputation price wise. It is offering every possible SKU available with the 32GB model and the Touch Cover for $599 or less (the cyan or black versions are $589). Move up to the 64GB Microsoft Surface table with any color Touch Cover for $699.99 while cyan and black are $679.
Costco is selling the Type Cover for $119.99. This is the cover that offers a more traditional style of QWERTY keyboard with raised keys, which also doubles as a protective color. The Type Cover is
$10 more
at the Microsoft Store. So while it might not seem like a lot of money, look at this way. Why spend more for something that you can buy cheaper from Costco, especially if you are already a member?
source:
Costco
via
WPCentral