Messaging friendly Samsung Gravity TXT for T-Mobile is now available for $9.99
3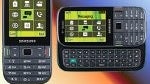 If you haven't noticed it already, we're beginning to see carriers announcing less in regards to feature phones, but rather, they've been heavily adamant about the proliferation of smartphones. Still, it's quite refreshing to hear carriers announcing feature phones nonetheless since they're slowly becoming few and far in between.
Earlier in the month, we reported about T-Mobile bringing the messaging oriented
Samsung Gravity TXT to its lineup on August 24th
. Well folks, it's that very day in question, and we're glad to see T-Mobile making good on its promise by delivering the handset as expected. Essentially your middle of the road no frills messaging handset that packs a landscape style keyboard in addition to its standard numeric keypad, it's meant to be used by individuals who are heavily reliant on text messaging.
Some of its other features include a 2-megapixel camera, 3.5mm headset jack, 1,000 mAh battery, and always-on social networking access. So how much are you going to need to scoop one up? Well, it'll only cost you a mere
$9.99
with your signature on a 2-year contract.
Therefore, if you're not into the whole smartphone craze and prefer something more focused on messaging, then you might find the Samsung Gravity TXT as the perfect solution to your needs.
source:
T-Mobile
via
Unwired View