Merriam-Webster Dictionary app shows why we need to blow up dictionary apps
0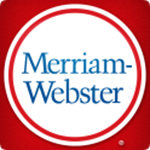 Merriam-Webster isn't the first dictionary app in the Android Market and it won't be the last. The trouble is that it just doesn't seem to be trying hard enough to differentiate itself.
All that to say, there's nothing inherently bad about the app. There just isn't anything intriguing either. It would be nice to see more OCR options for scanning words with your phone's camera, but the only app we've found that does that is SnaPanda.
Merriam-Webster Dictionary is free in the Android Market, but does contain ads.