Meet Gadget is our gadget site
1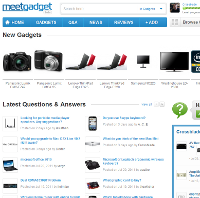 Phone Arena has been a leading source of mobile information for nearly a decade now. Whether it's the latest news and rumors, full specs of all phones or in-depth reviews - we have it all. But what about the rest of the gadget world? Well, we have another site, called
Meet Gadget
, which is a pretty interesting place for fans of all technology. It is an all-in-one hub combining gadget browsing, full specs, and the latest professional news and reviews aggregated from the best sites on the Internet.
We believe that MeetGadget.com is the one-stop place for gadget fans, because it offers:
A unique database of over 49,000 gadgets;

Unique way to find what you need - just choose the type of product you are interested in, and see the latest, most popular or best rated gadgets. Use the specs filter to find the one that will please all your needs;
See only the stuff you want - using the Following system you can stay up to date with the (type) of gadgets you are interested in and not lose time browsing through stuff you don't care about;
Is it worth it? Read the opinions of the gadget owners or professional reviews, which we humanly aggregate from the best sites in the world;
News are a great way to keep track of what happens in the gadget world, but it is hard to follow all sources, seeing the same story written over and over again. Our humanly aggregated news show you all stories, without any duplicates;
Want to share your thoughts on the latest technology? With a community of gadget maniacs, like you, it is way less awkward.