Liveblog: Apple iPhone 6s and iPhone 6s Plus announcement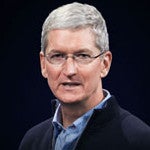 Well, today is the day! That was probably the first thing on many an Apple fan's mind this morning, and we can't blame them. Today, at the Bill Graham Civic Auditorium in San Francisco, Apple is going to unveil its newest products, among which are going to be its new smartphones: the
iPhone 6s
and
iPhone 6s Plus
. It would also be a nice surprise by Apple if the mythical iPhone 6c happens to make a cameo as well, but that's mostly us being optimistic here. The company is also expected to announce the exact iPhone 6c and iOS 9 release date.
In any case, it's going to be a big event, probably one of the biggest Apple events in recent memory, so you can rest assured it'll be more than worth following. If you'd like to watch the livestream of the special event,
head this way
for our complete guide on how to watch it. Otherwise, welcome to our liveblog! Here, we'll be posting a detailed stream of updates with text and images for a more discrete, yet informative way to follow the announcements live.
Apple iPhone 6s & 6s Plus event liveblog start times