Live lock screen wallpapers arrive with Windows Phone 8, including real time Facebook updates
16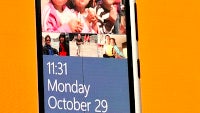 Just as
rumored for a while now
, Windows Phone 8 will have Live Apps, which will update in real time, and can push information to the lock screen. That screen usually doesn't do much but display static information, or update the basic things like messages, calls, weather and so on.
Now, with Windows Phone 8, third party apps will be able to push information right on your lock screen before you even flick away to get into the home screen. This will be customizable to your preferences, whether you want the Facebook app to push all the new statuses, messages and so on, or the Sports app to display the live score of a game, you catch the drift.
A pretty svelte ides, which should have been developed long time ago, as there have been hints and efforts from 3rd party app developers to do precisely that, and those options have proved very popular.