LinkedIn gives all 3,500 employees iPad minis
2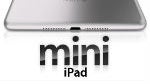 Working at LinkedIn was probably a pretty good gig before, but throw in some free tablets and it's sounding very sweet indeed. Apparently, LinkedIn's CEO Jeff Weiner just gave an iPad Mini to every one of LinkedIn's 3,500 employees. The news came out in a tweet from Darain Faraz, LinkedIn's UK communications manager.
A spokesperson confirmed the gift, saying:
We wanted to acknowledge the hard work and accomplishments of all of our employees in 2012. During today's bi-weekly All Hands meeting, we surprised our employees with iPad Minis as a small gesture of the company's gratitude for their contributions.
Given that LinkedIn just reported quarterly earnings that were $25 million higher than expected, the gift seems like a nice enough token of thanks. Word has it that LinkedIn went big with the gift as well, opting to give the employees the more expensive 32GB model, which retails for $429. If the company paid full retail for all of the iPads, the total bill would have been around $1.5 million.
Recommended Stories