Limited time promotion from Best Buy Canada lowers the price of the 32GB iPhone 4S and BlackBerry Bold 9900
0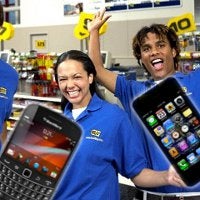 Honestly, it's hard to pass up on an exciting deal that brings some much-needed savings to highly prized smartphones – especially when it's Apple's pride and joy we're talking about. If you haven't noticed, there are few occasions when we see sales going on with any of Apple's products, but this one surely deserves some recognition.
Well, if you happen to live north of the border in the great country of
Canada
, you'll be impressed to know that you can pick up the
32GB iPhone 4S
for considerably less than anywhere else. Apparently,
Best Buy Canada
is reducing the price of the model by $70 for a limited time – bringing its tally to an easy
$199.99
with your signature on a 3-year agreement. Yes, that's 3-years folks, but that's generally the norm up there. For those interested, the offer is available for both Bell and Telus customers.
Meanwhile, there are also BlackBerry Bold 9900 deals. It is also getting a nice price drop for a limited time as well. Specifically, the Bold 9900 for Rogers is priced at a mere
$29.99
with a new 3-year agreement, which isn't too bad considering it's RIM's most premium device out on the market right now.
January 30th
– so yeah, time is extremely limited. As we've said, it's rather difficult to pass up offer like this, so don't squander the opportunity!
source:
MobileSyrup