Lenovo targets the sub-$199 price range with its new TAB 2 A10 & A8 Android tablets
2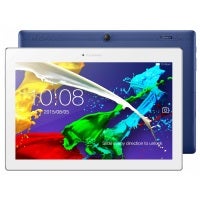 At MWC 2015, Lenovo presented a duo of A-series tablets, targeting a price range between $130 - $199 for the basic Wi-Fi models. The flagship product is the Lenovo TAB 2 A10, a 10-inch slate powered by 64-bit quad-core MediaTek silicon with 2GB of RAM. Its 10.1-inch IPS LCD screen runs on 1080p resolution, and its large 7200mAh battery is up for 10 hours of uninterrupted usage! All that from a tablet that's 8.9mm thick and weights 509 grams. This is also the first Android tablet to feature ATMOS cynema-style sound. The Lenovo TAB 2 A10 runs Android 4.4 KitKat, but it will be updated to Lollipop in June. It will debut in April, costing $199 for the base Wi-Fi model, and $279 for the base LTE model. The tablet will be sold in Pearl White and Midnight Blue.

Next up is the Lenovo TAB 2 A8, with an 8-inch 720p IPS display, a 64-bit quad-core MediaTek 8161 processor with 1GB of RAM, 16GB of expandable storage, and a battery life of up to 8 hours thanks to its 4200mAh unit. The tablet runs Android 5.0 out of the box. It's also a Dolby ATMOS 3D-supporting device that's 8.9mm thin, but weights under 360 grams. It has a dual-SIM model as well, enabling both GSM voice and 4G LTE data, so it can be your tablet AND smartphone if you like the idea. The TAB 2 A8 will be sold in June 2015, with Wi-Fi models starting from $129 and LTE models starting from $179. The color options are Pearl White, Ebony, Midnight Blue, and Neon Pink.
source: Lenovo
New Lenovo Tablets Prove Big Technologies and Savings Come in Small Packages
A Series Tablets Package LTE Connectivity, Dolby Atmos Cinema Sound and Affordability
Even More Choice with A Series Android and MIIX 300 Windows Tablets
BARCELONA ― March 1, 2015:
As a leader in building devices for the uniquely personal ways people use technology today, Lenovo (HKSE: 992) (ADR: LNVGY) has created three new consumer tablet choices: a pair of A Series Android tablets, the Lenovo TAB 2 A8 and A10-70, and a Windows tablet, the ideapad MIIX 300. Debuting at Mobile World Congress 2015, these different devices help meet consumers' desire for entertainment and portability at prices set for universal appeal. The all-new A Series proves affordable tablets can go big for entertainment capabilities with their high-speed LTE connectivity and Dolby Atmos technology. These tablets not only keep people connected virtually anywhere, but they also make movies, TV shows and music more enjoyable with astonishing clarity, richness, power and depth over their built-in speakers. Meanwhile, the 8-in ideapad MIIX 300 offers Windows users pocket-sized productivity.
TAB 2 A10-70 – A Digital Bestie for Massively Hungry Media Addicts
Now consumers can have it all – a large screen tablet that's thin and light and also stocked with a number of multimedia and performance-optimized features. Since many people use their tablet for relaxing with digital content, users will love the tablet's 10.1-in FHD screen, making it easy to get close to the gaming action or watch movies in brilliantly sharp resolution. To complete the audio-visual technology feast, we've equipped the tablet with Dolby Atmos®, making it the first 10-in Android tablet to include this moving cinematic sound technology. Users can crank up the volume and enjoy extremely rich and powerful sound through the multi-speaker soundbar, an impressive offering for such a compact tablet. We've made staying connected longer easy with up to ten hours of battery life on a single charge. At only 8.9mm thin and just 509 grams, the new TAB 2 A10-70 fits nearly anywhere people want to take it. Running AndroidTM 4.4 with a MediaTek quad core processor, the tablet now ups the performance of its predecessor with lightning-fast LTE connectivity, dual band Wi-Fi and an 8-megapixel rear camera. It
comes in two enticing color choices: Pearl White or Midnight Blue. And with pricing starting at less than $200 USD, Lenovo is reshaping the relationship between price and value.
TAB 2 A8 – Essential Companion for Staying Connected
Recognizing that one tablet doesn't fit all needs, we created the 8-in entry TAB 2 A8. This HD tablet caters to those who want to stay connected at a wallet-friendly price or who juggle multiple needs using one device. Starting at just $129 USD (WiFi models), the TAB 2 A8 can handle the most frequent personal connectivity tasks with ease, from updating social media to video chatting. Even lighter than the TAB 2 A10-70 at 360 grams and just as thin, the TAB 2 A8 lasts through an entire eight-hour work day without plugging in and features a dual SIM card slot for voice and LTE for data. And like the TAB 2 A10-70, this 8-in tablet packages affordability with LTE high speed wireless technology, a feature typically
unexpected in an entry level tablet. Proving that good sound can indeed come in small packages, the TAB 2 A8 caters to media junkies with Dolby Atmos, a moving audio experience over headphones where sound seems to come from all directions, including overhead, putting users inside the action. Shutterbugswill also enjoy using the TAB 2 A8's 5-megapixel rear camera to take sharp resolution photos. Responding to customer feedback and demand, we designed the TAB 2 A8 as our first tablet to run Android 5.0 Lollipop in pure form. Like its bigger brother, the TAB 2 A8 also features a MediaTek 64-bit Quad Core processor. It also features up to 32 GB of storage via a microSD card and comes in four distinctly fun color options: Pearl White, Ebony, Midnight Blue or Neon Pink.
Price and Availability
The Lenovo TAB 2 A10 will be available starting in April with models starting at approximately $199 USD for Wi-Fi models and $279 USD for LTE models. The Lenovo TAB 2 A8 will be available starting in June with models starting at approximately $129 USD for Wi-Fi models and $179 USD for LTE models. Consumers can find them at leading retailers and online at www.lenovo.com.