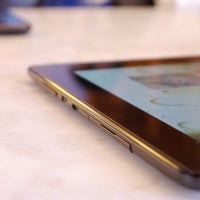 The
Lenovo S6000
is the most capable of Lenovo's new Android tablet lineup, fresh off MWC. That doesn't mean much though - they are all affordable devices.
The Lenovo S6000 features a 10.1-inch display with a resolution of 1,280 x 800 pixels. The display is IPS which means good viewing angles. We weren't impressed with the build quality, this definitely feels like the affordable tablet it is.
Under the hood, the S6000 is powered by a quad-core MediaTek 8389 / 8125 processor with each of the cores running at up to 1.2GHz.
Good news is the tablet that otherwise looks pretty generic is fairly thin at 8.6mm or 0.34 inches. Weight comes at the quite reasonable 1.23 pounds or 560 grams, less than tablets like the 9.7-inch iPad.
The tablet runs on an almost stock version of Android 4.1 Jelly Bean with the only slight difference being the addition of custom widgets from the manufacturer.
The Lenovo S6000 release date is set for the second quarter of the year with wide availability across the globe and including the United States.