Lenovo K800 is the world's first Intel smartphone
3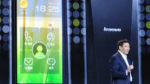 We've been waiting to see what Intel could do in the mobile space and now we're finally going to see it. The Lenovo K800 will be the first smartphone on the market to use the Intel Medfield processor. Unfortunately, we don't know a lot about the device, but what we do know is that it will feature a 4.5" 720p display and dual-LED flash with the camera.
We can also assume that it is an Android device, although from the images we've seen in the keynote, it does seem to have that Mondrian UI layered on it. The only other thing we know is that the phone will be released in China first in Q2 of this year. No other info right now.
We'll bring you more as we get it.