Lenovo IdeaPad K1 tablet gets a release date and price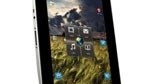 It looks like the Lenovo IdeaPad K1 tablet will be hitting the open market very soon. The tablet is scheduled for release on August 23rd for $479.99 for the 16 GB version, and packs quite an intriguing feature set that is trying to appeal to all users consumer and enterprise.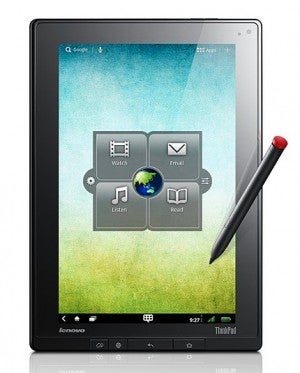 The specs of the tablet itself are what you'd expect from an Android Honeycomb tablet: a 1 GHz dual-core NVIDIA Tegra 2 CPU, 1 GB DDR2 RAM, a 10.1" IPS screen, a 2 MP front camera, a 5 MP rear camera, a full USB port and your choice of 16 GB, 32 GB or 64 GB internal storage. A little extra nice is that the IdeaPad will have tough Corning Gorilla Glass covering the IPS screen. The tablet will be pretty beefy though, clocking in at 14mm thick and 1.65 pounds (748g), which is a little more than the Motorola Xoom (1.6 pounds/726g) and a sizable amount more than the Samsung Galaxy Tab 10.1, which is just 1.24 pounds (565g). It will launch with Android 3.1, but will get the 3.2 update "soon".
The IdeaPad also seems to be targeting more of an enterprise audience, but still wants to show off its fun side, mentioning Angry Birds on the product site, but also integration with Citrix Receiver and Cisco VPN. The tablet will have an optional keyboard dock similar to the Asus Transformer, and an optional stylus similar to the HTC Flyer. Maybe best of all though is that it will come preloaded with the Flex T9 keyboard which is not only one of the best gesture keyboards, but features voice input powered by Nuance's Dragon Dictate.
Are you excited about this tab?