Leaked screen shot indicates that a 16GB version of the Motorola XOOM is on the way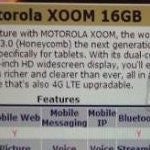 At this point, it's anyone's guess as to how well the
Motorola XOOM is selling
, but knowing that it sports a hefty cost of ownership, some just might be naturally turned away by it – even if it's the sole Android 3.0 Honeycomb tablet in the US right now.
If you happen to be the many people patiently waiting to see prices drop, you might be surprised to find that a potential
16GB version
of the tablet will be making its way to Verizon some time down the road. Glancing over a recently leaked screen shot from Verizon's Device Management system, it indicates that the carrier will be selling a 16GB version of the XOOM – of course, it'll be enabled for 3G right now, but it'll get 4G whenever that happens.
Aside from that revelation, the rest of the tablet appears to be the same – so we're all clamoring to see what kind of price point it'll grace. However, it wouldn't surprise much people to see it placed at $100 less than the current 32GB version. Let's hope!
source:
Droid-Life