Leaked images showcase the Samsung Galaxy Note 8 from every side
59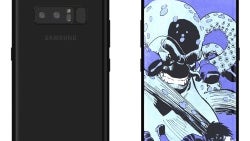 Ahead of the Samsung Galaxy Note 8's late August unveiling, Boy Genius Report shared detailed renders of the smartphone supplied by case maker Ghostek. Allegedly, they are based on genuine details and schematics, and while they may not end up being the real thing, they certainly look well-informed!
The upcoming handset is shown from the front, back, top, bottom, left and right. A notable difference from other images like this we've seen is that the screen's edges appear rounded, rather than squared off. Thus, the design is more similar to the Galaxy S8 and S8+, although the top and bottom bezels appear somewhat thinner.
On the back panel, a dual camera setup can be seen as expected, next to a fingerprint scanner. If the data to which these images were generated is correct, then it looks like Samsung has abandoned any plans for incorporating a fingerprint reader under the screen's glass cover. The choice to continue with this peculiar scanner placement, which gathered criticism with the Galaxy S8 and S8+ may be controversial to some. But for now, it's the best Samsung has got to work with.
In terms of hardware, the
Galaxy Note 8
is shaping up to be a Qualcomm Snapdragon 835 processor-powered device (Exynos 8895 in certain regions) with 6GB of RAM, dual 12MP cameras, and a 3,300mAh battery. A 6.3-inch Super AMOLED display with the Univisium 18:9 aspect ratio is expected on the smartphone.
All things considered, we have a very good picture of what Samsung's upcoming hero phone for the second half of 2017 is going to be. For more information, head to the ample material we have collected in the links below!
ALSO READ
source:
BGR