LIVE: Nokia's MWC 2013 press-conference
47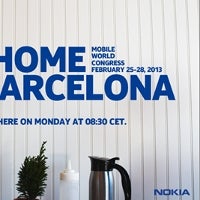 Nokia is back here at MWC with a press-conference where we expect the manufacturer to unveil some quite intriguing devices. Last year, Nokia introduced the innovative 808 PureView and Lumia 620 to the world, and this year we're once again looking forward to a new camera breakthrough. Sure, the Nokia Lumia 920 already has that beautiful 8MP PureView Phase II camera, but we all know that's still light-years away from the quality of the good-old 808, and that's what we're all hoping to see here at MWC - the real PureView and Windows Phone - all in a single device. Of course, the surprises that Nokia's hiding up its sleeve might be completely different, so let's not hurry to get our hopes up too high.
Whatever Nokia is going to unveil, we're sure that it'll be quite exciting, so be sure stay tuned to us! This wonderful events starts at
2:30AM Eastern, 1:30AM Central | 12:30AM Mountain | 11:30PM Pacific (on the 24th) | 7:30AM GMT
.