LG to start delivery of their GD910 wristwatch cell phone
0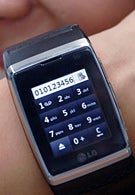 The cellphone wristwatch
LG GD910
has been part of every high tech buff´s wet dreams for a year now. First spotted at MWC 2008, it later appeared at both
CES
and
MWC 2009
, where more details on it got disclosed. It turned out that it wasn´t just a fancy wristwatch cell phone though. The likeable tiny device that clings to your wrist will also allow users to make video calls. We now know that it´s hitting the shelves this July, coming out through Orange in Europe first and later in Asia, the Middle East, Australia and South America. There is no clear information about its pricing, but the rumor has it it´s going to sell at about 1,000 british pounds per unit.
LG GD910 Specifications
Source:
LG
via
EngadgetMobile
Related news:
LG´s wristwatch cell phone selling for 1,000 pounds?