LG to spill the beans on its Optimus One and Chic Android phones next week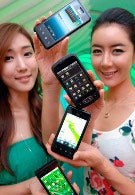 LG revealed back in July that it will launch ten smartphones in its newly-minted Optimus line by year-end. For now it looks like a smorgasboard of Android and
WP7
devices will be in it, along with some
high-powered Tegra 2 smartphones and a tablet
. In the initial announcement the Optimus line is starting with the Optimus One (of course), and the Optimus Chic, both of which will be running Android 2.2.
The Chic is supposedly aimed at the fashion-conscious crowd with its sleek design, and it was even spotted by Engadget at IFA 2010 under the LG E720 coding - not looking very smooth, though. Actually, the Optimus line probably started with the
Optimus GT540
Android phone, which we reviewed a few months ago.
Now last week
we got an invite
for an Optimus line press event for the media and tech blogs that will be broadcast online worldwide. LG only mentioned two devices will be examined at the event, one of which we thought will be the
rumored Optimus Pad Froyo tablet
. Today the company posted some more details that in fact it will be revealing those two same suspects - the Optimus One and Optimus Chic, which made us all teary-eyed.
After all, a very Chic-looking handset turned up at a Polish blog site recently, coded again as the LG E720. The site claimed it runs on the Qualcomm MSM7227 chipset (that's 600MHz), with a 3.2" capacitive screen and a 5MP camera. Much less is known about the Optimus One for now, so that will keep us warm until Tuesday.
We were hoping for the tablet, but the two Froyo-running phones might reveal more about the whole idea behind the Optimus line, so we will tune in when time comes and relay all the info to you. It will certainly be interesting, considering that:
"Participants are also going to be treated to opening graphics and video demonstrations of the handset features provided by Garson Yu, Founder and Creative Director of yU+Co, the man responsible for the title sequences of major Hollywood blockbusters including 300, Shrek and Watchmen.". Wow.
source:
LG
&
Android.com.pl