LG shows an upgraded Renoir
2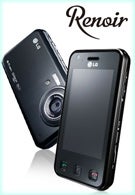 LG has renewed its 8-megapixel camera phone, the Renoir aka KC910. At the MWC event, the manufacturer has shown a device, named the
LG KC910i
, which adds a few novelties to the original. Right from the start, the updated camera powerhouse introduces a new thoroughly black design. Turn it around, and you'll notice that a mechanical lens cover is no longer present. The other change in the design relates to the body profile, which now seems slightly thicker.
Improvements do not stop here, as the KC910i now supports Microsoft Exchange synchronization and utilizes a new camera interface, which no longer cuts a part of the image that you are taking. The KC910i's camera is still capable of capturing video with VGA resolution at maximum 30 fps and with QVGA resolution at 120 fps in DivX format. In addition, the user interface of the device has been tweaked in order to deliver faster performance, while its appearance has been maintained as in the original.
The LG KC910i will allow for global roaming, because it features a quad-band (850/900/1800/1900) GSM support and only a single-band (2100) 3G.
You can check our review of the original LG Renoir
here
.
LG KC910i Preliminary Specifications
source: LG