LG enV VX-9900 Hands-on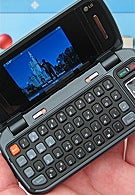 We just received our new highly-desired enV phone from Verizon Wireless – this is the carrier's new messaging device with full QWERTY keyboard and multimedia features. Just as its predecessor – the VX-9800 (the V) - this is not a smartphone but a standard Verizon device running on the same old UI known from other LG phones, but adapted for the landscape QVGA display.
This is also a clamshell that opens in landscape direction, but when it is closed it looks like a normal candybar phone: it has small color display with software and numeric keypad below it. In this mode it can be used a simple phone.
Open the shell and you'll reveal the power of the envy: large QVGA landscape display with stereo speakers around it, and full QWERTY keyboard below it. It's nice to see 0-9 keys line in the keyboard, which is rarely found and this keys are often situated as "sub" functions to other keys. The buttons are relatively big (for a full keyboard) and at the right is situated a navigation pad plus some service keys. Next to the big screen are the speakers for stereo music, which can also be played wirelessly as the phone supports Bluetooth A2DP profile – it clearly shows its multimedia orientation.
The left side houses a couple of volume keys and camera shortcut, while on the right are the microSD slot and the headset jack.
In a bulge on the back is the 2-megapixel camera with Autofocus and LED flash.
Although this is not a cameraphone, it performs well and the images produced look realistic and detailed for 2-megapixels. Their colors are not very highly saturated, and the images are oversharpened, but they are also not artificial as those of some other phone cameras
Sample photos captured by the VX9900 enV
Expect our review of the LG enV VX-9900 later!