LG VX8700 will be available tomorrow
2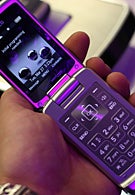 The LG VX8700 is the latest phone in the 8000 series to be released by Verizon Wireless. The most noticeable feature of the VX8700 is its brushed metal exterior and slim design, measuring only 3.82"H x 1.95" x 0.54"W and with a weight of 3.77oz. Rumors and pre-release images have been floating around the past few months, but it wasn't until CTIA last week in Orlando that the VX8700 made its first official appearance.
Despite some people saying this phone is a RAZR rip-off, the VX8700 is defiantly not a RAZR clone. It has a professional appearance, good build quality, and sports some high-end features that have eluted previous slim sized flip phones, including a 2MP Camera and QVGA display.
The External Display is a departure from previous LG phones, where you must hold the phone sideways (horizontal) to read it. We are unsure if consumers will embrace this design, or opt for the Motorola RAZR Maxx Ve (due 4/24) that has a larger "traditional" external display.
Even though this model is considered an upgrade from the VX8600 that was introduced last year, LG removed the touch-sensitive music buttons on the external front of the phone.
The VX8700 will be available on April 6th from Verizonwireless.com and on April 17 in stores. Pricing is $179 after a $50 rebate on a 2-year contract.
Features include
- 2MP Camera
- 262K Color 240x320 Pixel TFT QVGA Internal Display
- 65K Color 48x160 Pixel External Display
- Bluetooth, including Stereo A2DP support
- MicroSD Card Slot
- Internal Antenna
- Speakerphone
- VoiceCommands
- MP3/WMA Music Playback
- 1000 Contact Address Book
CTIA 2007 Vx8700 hand-on
LG Vx8700 Specifications

LG Vx8700 with Verizon Wireless Press Release