Sprint intros the cheap LG Tribute Dynasty, already available on Boost Mobile for $59
2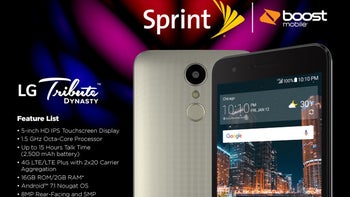 Sprint today announced a brand new smartphone made by LG -the LG Tribute Dynasty. As expected, the LG Tribute Dynasty is - just like itspredecessor - a low-end device that's made for users who don't want to spend morethan $100 on a new phone.
Sporting a 5-inch display with 720 x 1280 pixels, the LGTribute Dynasty is powered by an octa-core MediaTek processor, coming with 2 GBof RAM and 16 GB of expandable storage space. The handset further features 4GLTE connectivity, a 5MP front-facing camera, an 8 MP rear camera, and a 2,500 mAhremovable battery. Unfortunately, the Tribute Dynasty currently runs Android 7.1 Nougat,and it's not clear if it's going to be updated to Android 8 Oreo.
In case you're wondering, what seems to be a fingerprint scanner on the back of the LG Tribute Dynasty is likely just a power button, as there's no mention of a fingerprint sensor among the phone's features.
Sprint will start selling the LG Tribute Dynasty on January12 for $99. But the new smartphone can already be bought from Boost Mobile -one of Sprint's prepaid brands - for just $59.99 (plus tax). The handset willalso be available via Virgin Mobile, although it's not clear when this willhappen.
sources: Sprint, Boost Mobile