LG Mobile and Gameloft host "N.O.V.A. 3D" gaming tournament with the LG Thrill 4G
1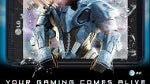 When it comes to playing games on smartphones, many people are probably familiar with the
game called N.O.V.A.
(Near Orbit Vanguard Alliance). In fact, it's one of the titles that managed to get the 3D treatment with the launch of the
LG Optimus 3D/Thrill 4G
. Well, if you happen to be a hotshot at the game, you'll probably want to know that LG Mobile and Gameloft kicked off a new campaign where they invite gamers to compete in a 3D gaming tournament.
Basically, they're bringing
N.O.V.A. 3D
to life during a gaming tournament that's going to hold on
September 20th
at Hollywood's illustrious Hollywood & Highland Center and Rolling Stones LA Lounge. LG's "Your Gaming Comes Alive" portion of their campaign for the LG Thrill 4G will get teams of professional gamers and consumers to compete in the tournament.
And when the dust settles, top scorers will go into a death match of some sort where they'll have the opportunity of winning the entire thing by being crowned champion. Additionally, they will also nab more than
$10,000
worth of LG products.
Naturally, that's not bad at all considering all you have to do is edge out everyone in a game of N.O.V.A. 3D on the LG Thrill 4G.
source:
PR Newswire
&
LG