N.O.V.A. - Near Orbit Vanguard Alliance for the iPhone Review
1

The Apple App Store isn't exactly choke-full of quality first-person shooters, so
N.O.V.A. - Near Orbit Vanguard Alliance
was truly a much-anticipated game. Finally, this shoot-everything-that-stands-in-your-way action is here, so we decided to check it out and share our impressions with you.
The story behind the game isn't what you would call "immersing", but it's good enough if you're just willing to blast some hostile aliens. In short, you are Kal Wardin – an ex-marine who is perfectly happy with his new life. However, the authorities don't seem to care about that and have decided that you are just the right man to take care of the whole alien invasion that's threatening mankind's existence. Well, you're not going to understand that by simply watching the totally uninspired pre-rendered introduction, that's for sure.
Alright, forget the intro, the in-game graphics are downright beautiful and you'll get that shortly after you've pressed the New Game button. Gameloft has managed to create a really engrossing atmosphere. For example, you start in a jungle, but it's not just the jungle, there are birds singing (and flying around), sunrays are passing through tree branches… N.O.V.A. is pretty to say the least. What makes it even better is that it runs perfectly smooth on non-3GS iPhones.
It would have been great to stay in the jungle, but unfortunately after a brief training you're sent to a toneless spaceship full of aliens that you need to… dispose of. The good part is that you're also paying a visit to a number of other environments throughout the game, such as snowy mountains, a bunker and an alien city. Basically, shooting at countless enemies with your arsenal of six weapons is a pleasant experience in N.O.V.A. - Near Orbit Vanguard Alliance. It's well thought out, but to our regret, it becomes a bit monotonous after a while. Your enemies are not really well-made, let alone scary, which kind of takes away some of the appeal. The music that accompanies you in your quest is fine, it's more than decent.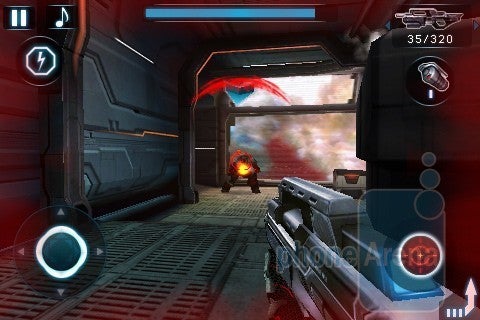 There's a lot of shooting in N.O.V.A.
As with other iPhone games of the genre, you control your hero with the virtual pad on the left. On the right, you have keys for shooting and jumping, and looking around is done by sliding you finger over the screen. The controls are well-implemented, but you know that playing this way on the iPhone can never be called handy. It's fine for the most part, but having your fingers messing with the screen all the time isn't cool. Unfortunately, this is a limitation no game designer has yet managed to deal with.
So is N.O.V.A. - Near Orbit Vanguard Alliance worth a try? You bet! It's far from perfect, but is a pretty good example of a full-featured first-person shooter for the iPhone. It offers a gameplay that's diverse enough and some lovely 3D graphics. If you are a fan of this kind of games, you should definitely play it; cost is $6.99.
Pros:
Beautiful 3D graphics
Diverse locations
Cons:
Enemies are not cool
All the shooting is fun, but a bit monotonous