LG G7 ThinQ vs Galaxy S9+ vs iPhone X: Specs comparison
1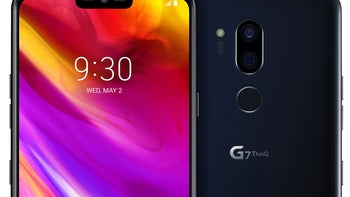 LG G7 ThinQ has just been announced, ushering LG in 2018 where it has a bit of catching up to do with most of its rivals that already announced their flagship wares for 2018.
For what it's worth, the G7 ThinQ appears to be a very adequate answer to just about any of the more recent top-end flagship device that have been released so far, like the Galaxy S9/S9+ and the Huawei P20/P20 Pro.
Is the new smartphone that much better than its well-received precursor? More importantly, how does it compare against the device that
essentially
brought us the notch craze, the iPhone X?

Let's compare the specs of all these four and establish a winner.
625 cd/m2 (nit)
1000 cd/m2 (nit)
HDR support, Pressure-sensitive, Oleophobic coating, Scratch-resistant glass, Ambient light sensor, Proximity sensor
HDR support, Scratch-resistant glass, Ambient light sensor, Proximity sensor
HDR support, Scratch-resistant glass, Ambient light sensor, Proximity sensor
Apple A11 Bionic APL1W72 (10 nm)
Qualcomm Snapdragon 845 SDM845 (10 nm)
Qualcomm Snapdragon 845 SDM845 (10 nm)
Hexa-core, 2390 MHz, Monsoon and Mistral, 64-bit
Octa-core, 2800 MHz, Kryo 385, 64-bit
Octa-core, 2800 MHz, Kryo 385, 64-bit
Apple 3-core GPU
Adreno 630
Adreno 630
256GB, not expandable
64GB
64GB
iOS (15.x, 14.x, 13.x, 12.x, 11.x)
Android (10, 9.0 Pie, 8.0 Oreo), Samsung One UI
Android (9.0 Pie, 8.0 Oreo)
USB Power Delivery
Qualcomm Quick Charge 2.0, Samsung Adaptive Fast Charging
Qualcomm Quick Charge 3.0
35.00 hours
the

average

is 11 h (660 min)
20.00 hours
the

average

is 11 h (660 min)
14.2 days (342 hours)
the

average

is 29 days (688 h)
15.6 days (374 hours)
the

average

is 29 days (688 h)
21.00 hours
the

average

is 0 h (0 min)
3G: 13 hours; LTE: 15 hours; Wi-Fi: 15 hours
Dual camera
Dual camera
Dual camera
12 MP (Sapphire crystal lens cover, OIS, PDAF, CMOS image sensor, BSI sensor)
16 MP (OIS, Laser and PDAF, CMOS image sensor, BSI sensor)
Aperture size: F1.8; Focal length: 28 mm; Sensor size: 1/3"; Pixel size: 1.22 μm
Aperture size: F1.5/F2.4; Focal length: 26 mm; Sensor size: 1/2.55"; Pixel size: 1.4 μm
Aperture size: F1.6; Focal length: 30 mm; Sensor size: 1/3.09"; Pixel size: 1 μm
12 MP (Telephoto, Sapphire crystal lens cover, OIS, PDAF, CMOS image sensor, BSI sensor)
12 MP (Telephoto, OIS, Autofocus)
16 MP (Ultra-wide, PDAF, CMOS image sensor, BSI sensor)
Optical zoom: 2.0x; Aperture size: F2.4; Focal Length: 52 mm; Sensor size: 1/3.4"; Pixel size: 1 μm
Optical zoom: 2.0x; Aperture size: F2.4; Focal Length: 52 mm; Sensor size: 1/3.6"; Pixel size: 1 μm
Aperture size: F1.9; Focal Length: 16 mm; Sensor size: 1/3.09"; Pixel size: 1 μm
3840x2160 (4K UHD) (60 fps), 1920x1080 (Full HD) (240 fps), 1280x720 (HD) (30 fps)
3840x2160 (4K UHD) (60 fps), 1920x1080 (Full HD) (240 fps), 1280x720 (HD) (960 fps)
3840x2160 (4K UHD) (60 fps), 1920x1080 (Full HD) (60 fps), 1280x720 (HD) (240 fps)
OIS, Time-lapse video, Continuous autofocus, Video light, Video calling, Video sharing
HDR, Time-lapse video, Hyperlapse, Continuous autofocus, Object tracking, Picture-taking during video recording, EIS, Video calling, Video sharing
HDR, Time-lapse video, EIS, Video calling, Video sharing
7 MP
8 MP
8 MP
1920x1080 (Full HD) (30 fps)
2560x1440 (QHD) (30 fps)
1920x1080 (Full HD) (30 fps)
5.65 x 2.79 x 0.30 inches (143.6 x 70.9 x 7.7 mm)
6.22 x 2.91 x 0.33 inches (158.1 x 73.8 x 8.5 mm)
6.03 x 2.83 x 0.31 inches (153.2 x 71.9 x 7.9 mm)
6.14 oz (174.0 g)
the

average

is 6 oz (172 g)
6.67 oz (189.0 g)
the

average

is 6 oz (172 g)
5.71 oz (162.0 g)
the

average

is 6 oz (172 g)
Back: Glass; Frame: Stainless steel
Back: Glass (Corning Gorilla Glass 5); Frame: Aluminum
Back: Glass (Corning Gorilla Glass 5); Frame: Aluminum
Water, Dust; IP67
Water, Dust; IP68
Water, Dust; IP68; MIL-STD-810 certified
3D Face unlock
Iris scanner, 2D Face unlock, Fingerprint (touch)
2D Face unlock, Fingerprint (touch)