LG G3 Beat/G3 s vs Galaxy S5 mini vs HTC One mini 2 size comparison
16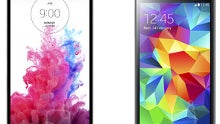 LG just unveiled the
G3 Beat
- the now obligatory scaled-down version of its
G3
flagship, but eschewed the "mini" moniker, as the
G2 mini
release is still fresh in memory, and, frankly, despite the big-screen trend, calling a 5-incher "mini" would raise some eyebrows.
Yep, you heard that right, the new LG G3 Beat, which will be known as G3 s outside of Korea, flaunts a 5" panel with 720x1280 pixels of resolution. Given that its flagship sibling sports a 5.5" screen, shrinking the diagonal to 5 inches is a significant scaling, yet you can't call it a G3 mini by any measure. Indeed, when we look at the other "mini" flagship versions that were recently announced, like Samsung's
Galaxy S5 mini
, or the
HTC One mini 2
, the G3 Beat sports a much larger screen diagonal, as those two come with 4.5" panel.
Still, it is not the thickest of the trio, and is only a tad taller than the One mini 2, which falls in line with LG's excellent screen-to-phone size ratio tradition. In fact, LG brags that with the 74.1%, the G3 Beat/G3 s screen-to-body ratio "is the highest in the mid-tier smartphone segment," and looking at the dimensions below, we have every reason to believe it. Moreover, with the signature navigational keys on the back taken directly from the G3, and its laser autofocus system, the G3 Beat/s might fool more than a few users that think the flagship is too big, depending on the price range that LG tags on it.