LG G3 Vigor Review
24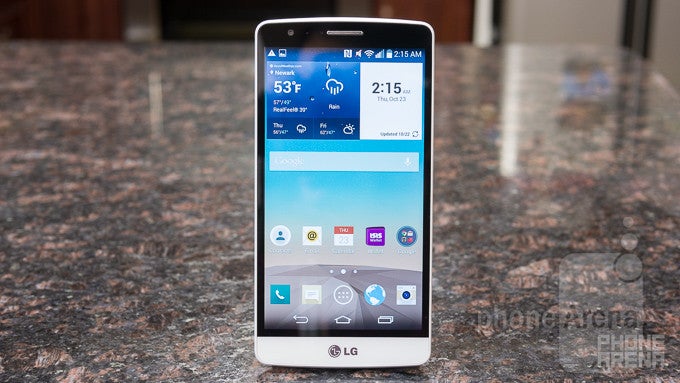 Introduction
When a certain flagship smartphone is so unanimously acclaimed by industry folks and consumers alike, it shouldn't surprise anyone to know that variants of that said handset are bound to arrive. Indeed, that's exactly what's happening to the
LG G3
here in the US, as the
LG G3 Vigor
aims to reach a new segment with its low cost through carriers like Sprint and AT&T – while still giving users many of the familiar qualities of its flagship phone in the LG G3. Arguably a mini variant of sorts, can the LG G3 Vigor still attract consumers who have plenty of inexpensive options to choose from?
The package contains:
microUSB cable
Wall charger
Getting to know your phone guide
Product safety and warranty information user manual
Design
Everything we like about the LG G3's design is present here, but it's significantly more compact in size.
Aside from its overall size and weight, the LG G3 Vigor is an exact facsimile of the LG G3 – so it flaunts the same design language as its larger sibling. Still primarily constructed out of plastic, with a thin film of metal incorporated into its rear casing, which gives it that appearance of being brushed metal, the Vigor undoubtedly has a good design balance that comes off nice for an entry-level offering. Better yet, it's comfortable to hold because of its compact size and the curved nature of its rear casing.
As we've detailed already, the Vigor employs the same design as the G3. Therefore, it packs all of the same ports and buttons as its sibling – including its IR blaster, laser auto focus, rear facing controls, removable battery, and microSD card slot. Generally speaking, "mini" phones tend to omit certain features, but we're really glad that LG decided to keep many of them.
Display
For an entry-level offering, the display actually sports some decent qualities that make it usable.
It's certainly tough to believe, but it's become the norm to find entry-level phones sporting 720p displays. Well, that's exactly what the LG G3 Vigor is rocking – a sizable 5-inch 720 x 1280 IPS LCD display, which produces a pixel density count of 294 ppi. Details are enough to make out find text in the web browser, so it's not much of a concern when looking at the screen from a normal distance.
Interestingly, the screen bears many of the qualities of the LG G3's display – though, not its impressive quad-HD resolution, of course. Specifically, it achieves a maximum brightness output of 418 nits, exudes a colder look due to its color temperature of 8001 K, and even the same punchy looking color reproduction. All told, we can't complain about what we're presented here, mainly because other entry-phones tend to have really poor quality screens.
Display measurements and quality
Recommended Stories