Kyocera announced seven new phones
0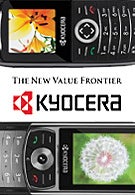 At the CTIA show in Vegas, Kyocera announced seven new phones, three CDMAs for the U.S. and four GSMs for Latin America. Those are the first GSM phones of the manufacturer and this happened because a number of CDMA providers in that region switched to GSM. Kyocera Wireless also noted that it finalized the acquisition of Sanyo's mobile devision and is now the sixth largest cell phone manufacturer in the world.
The three CDMA phones are expected to launch in the third quarter of the year. They all are tri-band, supporting the AWS band.
The
Kyocera Neo E1100
has themost interesting design. It has a hidden OLED caller-ID display anda unique "light-pipe" on the front. The internal display is 2.2" witha QVGA resolution. It has a
1.3
-megapixel camera, Bluetooth and BREWsupport.
In contrast, the
Mako S4000
has typical for its class design, two color displays (1" external and1.8" internal TFT with 262k colors). It features Bluetooth, a VGAcamera, WAP 2.0 and BREW.
The more youthful
Kyocera Adreno S2400
clamshell phone focuses on the "retro cool" with a tactile finish and curved edges.
The four GSM handsets are initially intended for the Latin-American market, but later, they may become available in other regions.
The most-feature rich among them is the slider
E4600
. It is quad-band GSM with a 2.2" display, a 2-megapixel camera and a microSD slot.
E3500
is quad-band as well, but has the clamshell form-factor and is equipped with a 2" main display and a 1" external one. Next to the latter are the keys for the music player and the 1.3-megapixel camera lens. Its memory is also expandable via a microSD card.
The last two are the candybars
E2500
and
S1600
. E2500 is quad-band GSM with a 1.3-megapixel camera, while S1600 is dual-band (two versions) with a VGA cam.