Kyocera Hydro hands-on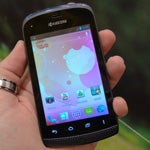 While it is always easy to get excited about the latest and greatest high-end smartphones, there is a huge market for budget handsets that have some resistance to the elements. Kyocera is looking to target that market with the introduction of the Kyocera Hydro.
Right off the bat, the Kyocera Hydro is a
water-resistant
device, so it may be a great options for parents with kids who tend to not exercise enough caution with their gadgets as well as the budget customer who has had their fair share of accidental encounters with liquids.
With the Hydro being a
budget phone
we have to say that the
plastic build
and overall feel of the handset fits that theme. The battery door has a lock on the back to keep the seal intact to repel water. The charging port on the top also features a cover with a gasket, but the headphone port seems to be wide open. This is a prototype unit, so that may get addressed in the final release.
The phone is a
smaller form factor
that fits comfortably in your hands thanks to its
3.5-inch display
. The display is an IPS LCD with a resolution of
320 x 480
. It looks ok and basic text is readable, but it isn't really anything to get excited over.
The Kyocera Hydro is powered by
Android 4.0 Ice Cream Sandwich
with a customized skin. It also features a single-core processor, 512 MB RAM, and a
3.2
-megapixel camera. While the specs are nothing to write home about, it performed decently when we flipped through the menus and launched some basic apps.
The Kyocera Hydro hasn't received a release date or a price point yet. While ultimately it will depend on pricing, at first glance the Hydro is a decent budget Android handset that gives users the piece of mind of water resistance.