Kurio Android tablets are made for the whole family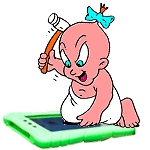 How many of you share your tablet or smartphone with a child? What about very young children? There are quite a few apps out there for young kids, so someone must be doing it. It's easy to see the advantage – a mobile device can help keep a child's interest momentarily while you discuss an important issue with a spouse, at work, or other "mission critical" times when you have to engage in grown-up conversation.
Yet doing so is inherently risky; the sleek, thin lines and "premium materials" of our favorite mobile devices aren't really designed with toddlers in mind. Enter Inspiration Works, a U.K. company whose Kurio tablets can be enjoyed by your whole family.
The Kurio tablets come in 7, 8, and 9 inch screen sizes, and all of them come with removable rubberized cases that protect them from the inevitable oops moments. The tablets come with several customized UI skins that are intended to scale with the age of the user. And when you finally get the tablet all to yourself? The case can pop off, and there's a full-fledged Android 4.0 ICS tablet waiting for the adults.
Internal specs are scarce at this point, but HD video playback is reported to work well, so the guts can't be too underpowered. The devices are scheduled to go on sale in the U.K. in July, and will range in price from £150 ($230) to £200 ($310). No word yet on availability outside of the United Kingdom.
source:
Pocket-lint
via
The Verge