Kindle app for BlackBerry gives businessmen the chance to read on the fly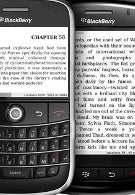 If you are a genuine BlackBerry totin', pinstripe wearing businessman, you realize that there are just so many hours in a day. Between being a captain of industry, meeting the other guys for cigars and brandy at the club (or just meeting the boys after hours at the bar for those pulling in less than 7 figures a year) and working out your golf game on the links, well, there just isn't much time left to finish that novel (sure Thing One and Thing Two are destructive, but at the risk of passing along a spoiler, the Cat does return everything to its proper place). All kidding aside, Amazon has just released its free Kindle app for BlackBerry. Actually, the app works on just a few of the newer RIM models like the Bold (9000 and 9700), Curve (8520 and 8900), Storm (9530, 9550) and Tour (9630). To get the app, type amazon.com/kindlebb on your BlackBerry browser, or visit the source link. And while owning one of those BlackBerry models is necessary to download the app, you do not need to own a Kindle although it does help.
Using Whispersync, you can automatically sync the last page you've read along with any annotations you've made between your Kindle and BlackBerry. Even if you don't have your Kindle with you, you can access your books from the device. Right now available only in the U.S., the app lets you choose from over 400,000 titles including 101 out of 112 New York Times Best Sellers. Those Best Sellers and new releases are $9.99 unless marked otherwise. Instead of having to use the phone's browser to shop for books at Amazon as the first version for the iPhone made you do, there is an in-app store where you can purchase your electronic titles. With the Kindle for BlackBerry app, you can make the world think that you are reading important e-mail that will rock Wall Street when truthfully, you are reading a current N.Y. Times Best Seller.
source:
Amazon
via
AllThingsDigital