Katamari Damacy creator making a game for Project Tango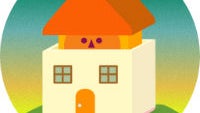 Katamari Damacy was an amazing game with a ridiculous premise and incredibly addictive soundtrack... and there were some follow-up games that never quite captured the same magic. Still, it is interesting to hear when the creator of Katamari Damacy is working on something new, especially when it is an augmented reality game for Google's Project Tango.
The game will be called Woorld and it appears to be a game where you can fill the physical space around you with digital toys and creatures to play with. It's kind of hard to tell what else to expect, because the developer, Funomena, describes the game like this:
Woorld is a whimsical, exploratory application. By peeking through the window of a supported handheld device, you can explore, discover, and create using digital objects and creatures that you place in physical space.
The developer says that users will be able to collaborate with friends and family, but it doesn't sound like there will be an online sharing mechanism. Rather, you collaborate, by having everyone view your Woorld through a shared screen.
It seems like an interesting use of the augmented reality power of Project Tango. The game won't be fully released until the fall, but there will be a preview at Google I/O, so maybe we'll learn more.