Kantar: Samsung and LG accounted for 78% of all Android smartphone sales in the US during Q2 2015
25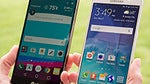 According to the latest report from Kantar Worldpanel, Samsung and LG have led Android smartphone sales in the US during the second quarter of 2015 while also managing to slightly chip away at iPhone sales compared to the previous quarter.
Although both LG and Samsung seem to be struggling in the global market, the two manufacturers are said to be actually performing quite well on US shores. In fact, Kantar claims that LG has been able to sell more handsets than Samsung to first-time smartphone owners in the US, which might not be the biggest of accomplishments, but not something to be overlooked either.
Kantar estimates that LG and Samsung jointly accounted for 78% of all Android smartphone sales during the second quarter. Unlike other markets, such as the EU and China, the Android smartphone market in the US appears to be under the control of the Samsung-LG duopoly.
Although the two South Korean companies are dominating Android smartphone sales in the US at the moment, chances are that they will soon start feeling the heat from China-based companies. Huawei is already starting to scratch the surface of the US smartphone market, and other major smartphone makers such as Xiaomi and Meizu have expressed their intention to officially sell devices on US soil at some point in the future. Once this happens, it wouldn't be entirely unthinkable for Samsung and LG to start losing their grip over US-based Android smartphone sales. Until this happens, though, Samsung and LG appear to be the poster childs of the Android camp in the US.
What do you guys think of this report? Are you surprised to see LG and Samsung on top of the US Android smartphone market despite the fact that that
both companies recently
reported
poor financial performance
at the global level?