Kantar: Motorola grabs 6% of U.K. smartphone market, thanks to the Motorola Moto G
10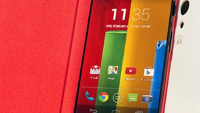 The latest report from analytics firm Kantar Worldpanel ComTech, shows that the £135 ($225 USD)
Motorola Moto G
is working its value-priced magic on consumers in the U.K. That shouldn't be too much of a surprise. After all, Motorola senior vice president Rick Osterloh has called the phone the highest selling handset in company history.
Kantar's report shows that the Moto G has been taking sales away from Samsung and Nokia in the low to mid-range arena. The result is that the Lenovo subsidiary now controls 6% of the U.K. smartphone market. That is a big deal considering that prior to the Moto G's November release, Motorola's presence in the U.K. was practically non-existent.
According to the data employed by Kantar, Motorola Moto G buyers in the U.K. are young, with lower income. Male buyers are dominating the purchase of the phone, accounting for a whopping 83% of Moto G sales in the region. About half are between 16 and 24, with 40% earning under £20,000 ($33,300 USD). Kantar adds that 48% of the phone's sales in the U.K. were made online.
"Motorola was nowhere in Europe before the Moto G launched in November last year, but the new model has since boosted the manufacturer to 6% of British sales. It highlights the speed at which a quality budget phone can disrupt a market. The same pattern can be seen in France with Wiko, which has 8.3% share, and Xiaomi in China with 18.5%."
-Dominic Sunnebo, strategic insight director, Kantar Worldpanel ComTech
The report also shows that smartphone purchases in general are picking up in Great Britain, with a penetration rate now standing at 70%. Over the last three months, smartphones have accounted for 86% of mobile handsets bought in the country.
source:
KantarWorldPanel
via
AndroidCentral