Judge Koh throws out mobile data tracking lawsuit against Apple
33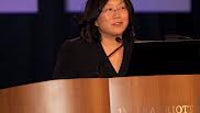 Judge Lucy Koh, who presides over a number of Apple-related lawsuits, just dismissed a case against the manufacturer that involved a pair of consumer protection laws. Koh ruled that the four plaintiffs failed to prove that they were harmed by any alleged misrepresentation by the Cupertino based tech titan.
The plaintiffs began their long legal journey back in 2011 when they sued Apple, claiming that iOS was designed to easily transmit personal information to third parties. The suit stated that the plaintiff's privacy was violated by Apple. The plaintiffs also said that they suffered damages from paying too much for the iPhone.
"Plaintiffs must be able to provide some evidence that they saw one or more of Apple's alleged misrepresentations, that they actually relied on those misrepresentations, and that they were harmed thereby."
-Judge Lucy Koh
The case is one of 19 that has been consolidated into one nationwide lawsuit. If you fancy yourself an attorney, you can read Judge Koh's ruling below.
source:
Scribd
via
Reuters