Journey is a journal keeping app with Material Design and human touch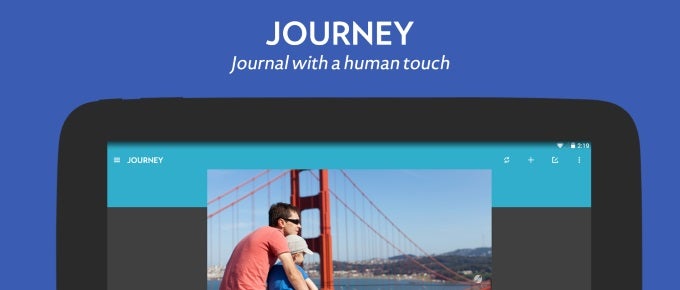 It's about time more and more Material Design apps started showing up. But it's not only the quantum paper-like design that makes Journey appealing. If you are not the journal-writing type, it will take a special kind of situation, or a special kind of app to get you into the habit. And this app might just be it.
Journey lets you build your autobiography by arming you with a calendar, text editor, photo gallery, and an atlas. This means your journal entries are elaborate presentations that not only preserve your thoughts in beautiful written format, but also plot their dates on a calendar, remember the temperature and exact location, and are photo-rich. This is a journal super-charged.
Awesome journaling aside, Journey does all to make sure using it is seamless on your Android device. It syncs with Google Drive, automatically tracks weather, temperature, location, music, and motion activities, supports manual geotagging with Google Places, and as every good journal, it has a passcode for locking your entries.
Oh, and it's both free and ad-free. Although you can help yourself and its creators with some in-app purchases, such as Night Mode, backup to local storage, cloud print and print to PDF.