Jon Stewart and Stephen Colbert pay tribute to Steve Jobs
12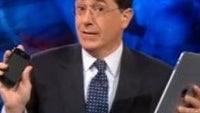 Politicians, tech leaders and all sorts of important people spoke about their memories of Steve Jobs yesterday, but often the nation turns to others to find a voice to its opinions in a different way - with comedy, irony or just a smile. In the States, Jon Stewart and Stephen Colbert often substitute for the conscience of the nation, and that's why we thought their tribute to Steve Jobs was worth special attention.
Stewart
compared him with Henry Ford and Thomas Eddison
, but also remembered that
"it was nice enough to call every now and then when he thought the bit was charming and call every now and then when he thought one wasn't."
But for Stewart Jobs was more than that, he was
"sort of like an alien that comes down and gives you this new technology, shows you how to use it and then goes back in a spaceship."
Colbert was much more theatrical, portraying his previous
obsessions with Apple gadgets
. Check out the videos below yourself and join in with your impressions about the iCEO in the comments.
Recommended Stories