Jelly Bean update coming to Verizon's Samsung Galaxy S III
21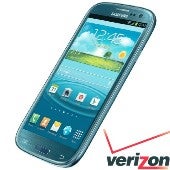 Over the past couple months, Verizon customers have been waiting to see when their Samsung Galaxy S III would be updated to Android 4.1.1 Jelly Bean. We've seen a few
leaked builds
(version I5, J1, and K1) but today it's been revealed by "open1your1eyes0"
on XDA Forums that the latest
K3 build
will actually be the version that is sent to
Verizon customers over-the-air later this week
.
If you don't want to wait until then, good news;
you can now download and install
the leaked K3 Jelly Bean ROM, as well as installing ClockWorkMod Recovery, Root the phone, and unlocking the Bootloader by following the steps that "open1your1eyes0" has listed
here
. But keep in mind that if you wait and do the 62MB over-the-air update, and then at a later time want to root your phone, you'll have to still use his three-step guide: starting with the K3 No-Wipe, then ClockWorkMod Recovery, Root the phone and unlocking the Bootloader.
Verizon's support documents also reflect the K3 Jelly Bean ROM being official, as they list all the features and benefits.
Update:
For some reason Verizon removed the K3 Jelly Bean support documents on their site, probably because they weren't intended to be listed just yet.
source
XDA
,
Verizon Wireless