It took LG 15 months to develop and patent the Crystal Reflection glass back of the Optimus G (video)
43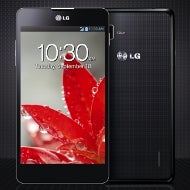 Oh,
Optimus G
, you are gearing up to be the most powerful Android handset on the market at launch, but what about your design, the Achilles heel of handsets with Google's mobile OS, whose flagship design scenarios are restricted by the fact that at least a 4.3" screen has to be present?
LG has been upping its design game this year with the L-series, and especially with the quad-core
Optimus 4X HD
, which is the most compact amongst the first half flagships, despite sporting a 4.7" display. Thanks to the
ultra slim 13MP camera packaging
, the Optimus G will fare even better, and LG says its design heritage is inspired by the traditions with the exemplary LG Chocolate and Prada series.
With the Optimus G, however, LG went further, and introduced a clean and simple design paradigm, with the use of
premium materials on the back
, the area which other people most often see, whereas it made the front occupied by the screen as much as possible, with record small bezel, whose color blends with the switched off display to seem one whole.
It took LG 15 months to develop the "Crystal Reflection" back cover of the Optimus G, and it patented the technology. The back cover is made entirely of glass, with prisms under the surface that boast subtle color changes, depending on the angle that the light falls at. The only downside of using this premium material is a slight increase in the phone's weight, but what's an ounce or two when you look "premium", and this was proven by the all-glass iPhone 4/4S, which is quite heavy for its size. Here's the design rundown by the phone's Chief Designer Sera Park:
Our top priority was to carry over LG's unique design DNA and heritage to Optimus G. Optimus G has many of the elements that we incorporated in the past in phones such as Chocolate, Prada and L-Series. For example, the front face of Optimus G is completely black with lines that are nearly invisible when the phone is off, an effect similar to the original LG Prada.

The Crystal Reflection process used for the first time on the back of LG's new Optimus G smartphone was developed and patented over a period of 15 months. Crystal Reflection gives the Optimus G's back cover the ability to display different patterns depending on the viewing angle and lighting. The intricate polarized 3D pattern, which sparkles just under the surface, looks almost jewel-like. Laser cutting adds to the clean finish, as do the metallic highlights.