Intel has nearly completed a 5G modem with 5Gbps download speeds
99+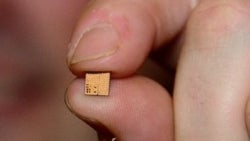 While many parts of the world are yet to get their 4G infrastructure sorted, Intel is already publicizing a 5G modem in an advanced development stage which will be ready for sampling by the second half of this year. It's capable of achieving 5Gbps download speeds, which is really fast – for example, it would take a 50GB movie around 80 seconds to download.
To accomplish this, the modem relies on several technologies, such as bandwidth aggregation, ultra-low latency frequencies, MIMO, advanced channel coding, and 4G fallback. It's designed to work with today's 4G infrastructure and budding 5G networks. The kind of bandwidth and extra-low latency enabled by 5G networks will enable fast transfers and streaming of high-resolution content, while also letting smart devices and vehicles react to split-second events.
5G networks are already being built by American carriers. Verizon has deployed 5G equipment for fixed 5G service in ten cities, while AT&T employs a fixed 5G signal to stream its DirecTV Now service. T-Mobile plans to enter the 5G game in 2020, with initial tests achieving 12Gbps download speeds. In other parts of the world, such as South Korea, Samsung and Korea Telecom plan to deploy 5G connectivity for the 2018 Winter Olympics.
ALSO READ