5G networks are coming in 2020: here are the speeds and advantages to expect
15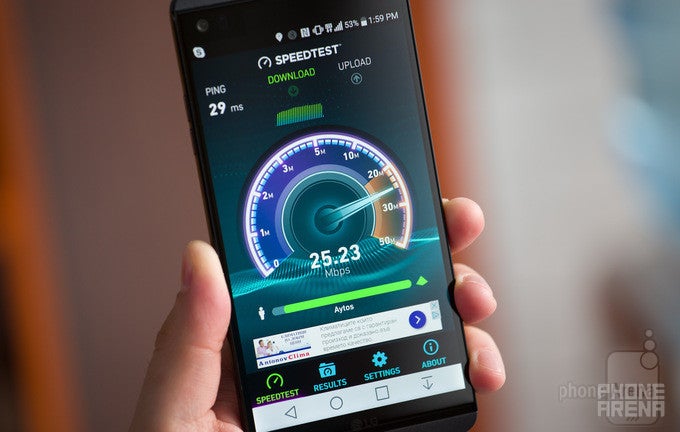 I still remember the day when I first accessed the internet from a mobile device. It was in the early 2000's, when I owned a Motorola T720 flip phone. Its data connection allowed me to download ringtones, wallpapers, even games from the web, which was quite an adventure back then. But it was also kind of slow, and even a single image took a long while to load, even when it was the size of a postage stamp.
Today's 4G phone networks are literally over a thousand times faster, but even that won't be able to meet the demand for data traffic of future applications. That is why a whole new generation of cellular communications standards is already in development, and 5G isn't far from becoming the next hottest tech buzzword. But how did we get here and what is 5G going to change? Let us explain.
Gee, how did we get to 5G?
Back in the '80s – when Billy Jean rocked the charts and the fanny pack was a must-have accessory – cellular phones were purely analog devices. Kind of like high-tech walkie-talkies, they were made strictly for voice calls and could not transmit digital information. Not even a text message, for that matter.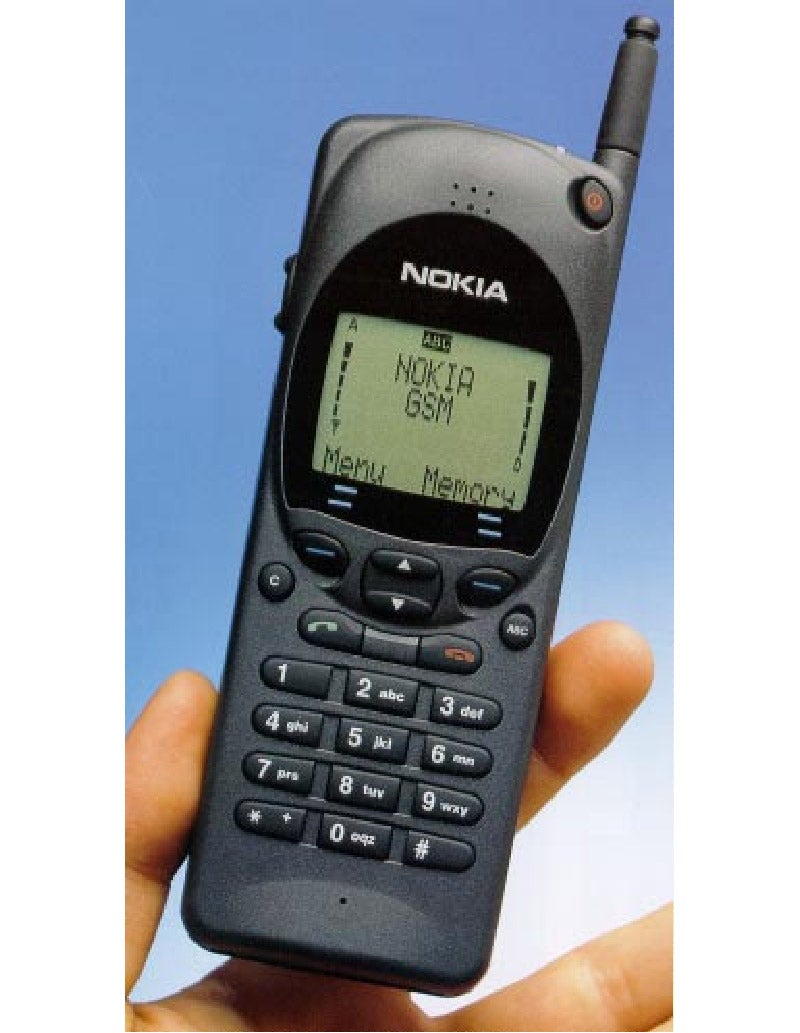 The Nokia 2110 was one of the first popular 2G phones
Texting capabilities came to cell phones in the early '90s, with the deployment of second-generation cellular networks, which were all digital. The 2G era also saw the arrival of data services to cell phones – email, multimedia messages, and yes, downloading pictures and ringtones from the internet.
Launched in the early 2000's, 3G networks allowed even faster data exchange. This enabled face-to-face video conversations, the kind of which people had only seen in Star Trek and the Teenage Mutant Ninja Turtles cartoon series. But users weren't in a hurry to jump on board the 3G wagon. Even the first iPhone, launched in 2007, was still a 2G device.
Speaking of the iPhone, the rise of the smartphone was what fueled the development of even faster cellular networks. This new breed of cell phones could put cellular data to better use, and people didn't like staring at that spinning circle as their YouTube video was buffering. Hence, the fourth generation of cellular networks was already in operation by the late 2000's, with support for even greater data speeds.

The evolution of cellular networks, visualized
How fast is 5G, and what do we need it for?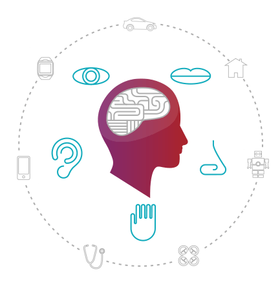 At the typical data speed provided by today's 4G LTE networks (between 10 and 30 megabits per second in a realistic scenario), a high-definition movie can be downloaded in a matter of minutes. That is fast indeed, but when it comes to cellular networks, data speed is just one of the many factors to consider.
In the near future, our smartphones will not be the only devices requiring a 24/7 data connection. Self-driving cars, autonomous drones, IoT appliances, smart wearables, and infrastructure solutions are expected to raise the demand for cellular data, hence next-gen technologies are being developed with capacity in mind. In other words, 5G will be expected to
reliably and simultaneously
serve a much greater number of connected devices.
At the same time, 5G networks will be designed to be flexible, responding to the particular usage scenario. Some applications might require super-fast data exchange, while others may demand a rock-stable connection with minimum latency. No matter the case, 5G should be able to adapt and deliver the best possible user experience.
Actual 5G data speeds will vary from one application to another, but rates between tens of megabits and tens of gigabits per second are to be achievable. Overkill? By today's standards, probably. Awesome? Most definitely, yes! All of this extra bandwidth will allow the delivery of services that current 4G networks can't quite handle. Think 4K, 8K, 360-degree video streaming, real-time augmented and virtual reality experiences over the web, massive online multiplayer games with zero delay issues, and more.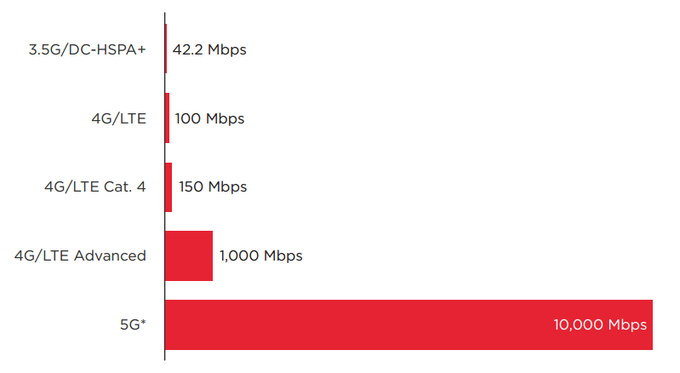 At a technical level, 5G will be designed to be much faster than previous generations of networks
When is 5G going to launch?
You might have heard the news that Verizon wants to be the first carrier to launch 5G service in the US. AT&T, T-Mobile and Sprint will surely follow suit with their own 5G solutions. That, however, is not expected to happen before the turn of the decade.
Don't expect to see 5G widely available in the US before 2020
5G still has a long way to go before it is ready for commercial use. Network technologies have yet to be defined and standardized, wireless spectrum has to be allocated, and hardware needs to be developed. All of this takes time and resources. But if all goes according to schedule, a pre-standardized 5G network will go live in time for the 2018 Winter Olympics in South Korea. This will be a soft launch, mind you, made to test-drive the new technology in real-world conditions. A standardized, commercial 5G network is expected to launch in time for the 2020 Summer Olympics in Japan. By that time, 5G networks will be also up and running in South Korea and China.




As for the US, all four major carriers – Verizon, AT&T, T-Mobile, and Sprint – have begun testing and demoing the capabilities of fifth-generation wireless technologies. 5G, however, won't be available to the masses before 2020.



5G is going to be awesome, right?
Yeah, that's for sure, but until it lands in its final form, let's be realistic about 5G. The experience for early adopters might not be exactly great.
At first, there will be coverage issues. Remember how spotty 4G was when it launched? Chances are the case with 5G networks will be no different until they are built densely enough. Making matters worse, the specifics of 5G might make it so that each 5G tower would cover a smaller area compared to a 4G one, so it could be easier to fall out of range.
It is realistic to expect 5G to be 10 times faster than 4G. Don't expect hitting the insane speeds seen in current demos
Then there's network speed. Of course, it goes without saying that 5G will be faster than 4G, but theoretical data rates are one thing, and real-world performance is a whole different story. In other words, 5G networks won't be quite as fast as current field trials suggest. For example,
T-Mobile recently achieved a download speed of 12 gigabits per second
during a 5G network test. This is
1200 times faster
than the average speed of a 4G LTE network in the US. But the test was conducted using equipment that is never going to be within the reach of the average consumer. In reality, 5G is expected to be only about 10 times faster than current 4G networks – still a solid upgrade, we'd say.
In the meantime, 4G will continue to evolve and serve the increasing number of users and devices demanding bandwidth. And when 5G finally lands, the two network generations are surely to co-exist for quite some time.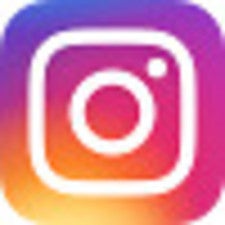 PhoneArena is on Instagram
. Follow us to stay updated with fresh news and flashy media from the world of mobile!
Recommended Stories