Instapaper bought by Pinterest to boost article visibility on the service
1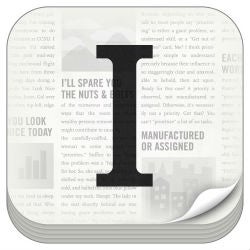 Instapaper has had a strange history. The app was one of the catalysts for the boom in read-it-later options, but after its initial hype has seemed to fade in and out of the spotlight while keeping hold of its loyal user base. Pinterest has had a similar run pulling together a loyal base, but has run into problems because people fundamentally misunderstood the service.
Many assumed Pinterest was something of a social network for women because a large portion of users tended towards sharing design, fashion, makeup, crafts, and cooking. But in reality, Pinterest is fundamentally a bookmarking service for images and arts like those listed above thrive in the visual medium. Now, it appears that Pinterest wants to expand its reach into bookmarking text, because it has agreed to purchase Instapaper.
Instapaper was
purchased by betaworks
three years ago and it is changing hands again. The Instapaper team noted the overlap between its service and Pinterest which both allow "users to discover, save, and experience interesting web content." The team said it will be bringing its talents to Pinterest and experimenting with the platform, but it also promised that Instapaper would remain an independent app. So, it should be interesting to see how both services evolve and merge.
The terms of the deal were not disclosed.