Inside Microsoft's HoloLens headgear: all you need to know in a video and infographic
58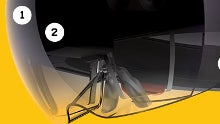 Perhaps the craziest thing announced by Microsoft during the
Windows 10 presentation
is
Windows Holographic
- APIs that can be utilized by developers for multidimensional imaging, gaming, CAD apps, and so on. Not only that, but the company also announced Microsoft HoloLens - a virtual reality kind of headgear.
The augmented reality kit has its own computing power, rivaling that of current laptops, and spacial sound technology for holographic processing, able to understand what you are looking at, understand your voice, and run without any wires, processing terabytes of information in real time. No phone is required, no PC connection, and, as we mentioned, no cables even, which is really crazy.
The Holo Studio was also announced - a platform that allows you to create for the new Windows Holographic experience and the HoloLens device in a jiffy. The demonstration showed a quad-copter being imagined and created with Holo Studio, then 3D-printed as a physical object. The "Wired" magazine sat down with Microsoft's CEO Satya Nadella, and featured the cool new products and services developed under his supervision long and hard, but what attracted our attention were the details about HoloLens.
Microsoft is apparently planning to roll the headgear to influential opinion-makers at first, the kind of folks that would give TED talks, for instance, and engage the ever-critical development community to take a long and hard look at what can be done with the holographic abilities of HoloLens, only then rolling them out to retail, so that your kid can play 3D Minecraft with their buddies. Check out the Wired's infographic of the HoloLens headgear, detailing its build and abilities, and feast on Microsoft's official promo video below.
Recommended Stories