Microsost makes sci-fi reality with Windows Holographic and the HoloLens headgear
37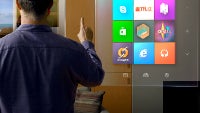 Perhaps the craziest thing announced by Microsoft today is Windows Holographic - APIs that live in the Windows 10 kernel, and can be utilized by developers for multidimensional imaging, gaming or CAD apps.
Not only that, but the company also announced Microsoft HoloLens - a virtual reality kind of headgear, which has its own computing power and spacial sound technology for holographic processing, able to understand what you are looking at, understand your voice, and run without any wires, processing terabytes of information in real time. No phone is required, no PC connection, and, as we mentioned, no cables even, which is really crazy.
The Holo Studio was also announced - a platform that allows you to create for the new Windows Holographic experience and the HoloLens device in a jiffy. The demonstration showed a quad-copter being imagined and created with Holo Studio, then 3D-printed as a physical object. Check out the science fiction stuff in the video below.