India's Spice Mobile releases M-67 3D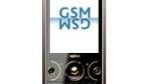 India's
Spice Mobile
has released a 3D phone that doesn't require special glasses for 3-dimensional viewing. The M-67 3D also comes with a surprisingly low price of around US$97 off-contract.
The M-67 3D utilizes a stereoscopic display, that can easily be switched to 2D mode. It also supports 3D image and video formats. Perhaps the only downside is that the camera is still a standard 2D 2-megapixel camera. But let's not be negative; this is an amazing deal, and a great step towards all devices being
3D-capable
.
Other features of the M-67 include dual-SIM capability, MP3 playback, an FM radio with recording capability, a 2.36-inch screen with 240x320 resolution, and stereo Bluetooth. The device will also feature remote wiping ability, through which you can turn off the phone, erase the phonebook, delete your call log, delete messages, format your memory card/phone, and send your business card.
This is all well and good for India, but the rest of us are waiting for a 3D device of our own. We look forward to seeing
Sharp's 3D technology
in a phone, which is supposed slated for the end of this year or early 2011.
source:
Spice Mobile
via
Engadget