Imagine a world where Angry Birds and Pigs live in a peaceful harmony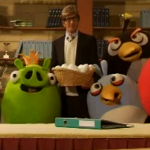 An Israeli comedy show took aim at the failure of two sides to work out a peace agreement in real life, and then took us inside a world where the two parties co-existed peacefully-even if just for a second. Are we talking about the Israel-Palestinian peace talks? Don't be silly. This is the biggest battle currently on this planet and millions are involved. We are talking about the Angry Birds vs. the Pigs!
The addictive game was the subject of a parody by the television show Eretz Nehederet and will keep you laughing, especially during the finale of the skit. Just a word of caution, the sub-titles are definitely X-rated as tempers flare between the Birds and Pigs, so use discretion when viewing the clip.
source:
DailyMobile