Image of the Samsung Acclaim is revealed by none other than Samsung
This article contains unofficial information.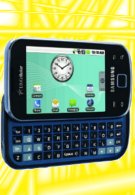 The Samsung Acclaim that's known to be making its way to US Cellular has been seen in the flesh
sitting pretty all by itself during Google I/O
and an
earlier rendered image
was believed to be the handset. Now it looks as though an official rendered image has been uncovered on Samsung's own site that finally provides us a glimpse of the handset in its opened formation. Not only does it clearly show that the handset is running Android and packs a sliding QWERTY keyboard, but there are some hints that the handset could be geared towards gaming – the lighter shades of color found in the left side of the keyboard make out a cross formation. When comparing it to the original rumored rendered image of the handset, you can faintly see how the offset colored keys match up the newer image. However, neither Samsung or US Cellular have come out to officially announce an availability date, but this mid-range Android offering is speculated to become ready some time in July.
source:
Samsung
via
Engadget