Ice Cream to incorporate Honeycomb features?
2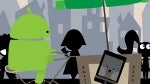 Early this year a flood of rumours about
Ice Cream
- presumed to be the next version of
Android
- burst onto the mobile scene, and made a few headlines.
After that, it was all quiet on that front, but now an
unconfirmed information
from "a trusted source" is saying that Ice Cream will incorporate pieces of Honeycomb when it's eventually released. This, in turn, will allow owners of Android smartphones to sweeten their experience with some
Honeycomb features
, which is something that (seemingly) lots of people want.
It's yet unknown which Honeycomb features will be present in Ice Cream (if they are present at all, you know), and to what extent, but it is claimed that Google is building a new branch of code (
GRI17
), which is set to turn into Ice Cream.
Previous rumours stated we will see
Ice Cream in the summer
, and that its name is actually
Ice Cream Sandwich
.
That's all unofficial information, though, so there is every chance none of these claims are valid - so we will have to wait and see. What's certain, though, is that you have to check our
Honeycomb sneak peek
, and after that you can tell us which Android 3.0 features you would like to see on phones.
source:
Phandroid